As we head into Memorial Day weekend I can't help but notice the endless number of retail sale emails popping up in my inbox. As my husband (and probably the mail[wo]man) can attest, I'm an avid online shopper. I've been picking up basics here and there over the last few weeks to transition into the warmer spring and summer months, and the online sales have been awesome. Unfortunately, as much as I may be tempted, I can't buy everything. Below is a little compilation of some things I've been loving but haven't made the cut.
Floral Print Spaghetti Strap Romper – LOFT – $69.50
(save 40% through Memorial Day weekend with code MUSTSHOP)
How cute is this romper from LOFT? I've never ventured in to romper-land, and I honestly haven't ever been tempted until now. The colors and pattern of this keep it from feeling too trendy. I could see myself wearing this on the weekend for brunch or to the beach paired with flats or wedges. I do think it's a piece that I would tire of quickly though, and since it's one piece the mix and match options are a little limited. I also try to keep the majority of my shopping budget earmarked for items that I could transition from work to weekend, and this cute little romper doesn't meet that criteria.
Elephant Printed Short in Preppy Navy – Banana Republic – $55.00
(save 40% through Memorial Day weekend with code BRHEAT)
When I was joining my sorority in college a Sister told me that her grandmother believed elephants were a sign that things were meant to be. Since then, I've always had a soft-spot for elephant themes, and these printed shorts from BR are no exception. While the 40% off sale is almost enough to tempt me, I have several other pairs of patterned shorts, and these aren't unique enough to validate the purchase.
SKIES ARE BLUE Nautical Stripe Dress – Piperlime – $98.00
I'm a sucker for stripes, and the classic cream and navy in this dress paired with the fit and flare cut make it a total staple piece. However, I'm at a stage in my life where any dress must be looked at as to whether or not I could wear it to a wedding, and this one feels a little too "white" to be wedding guest appropriate. Alas, it's really, really cute.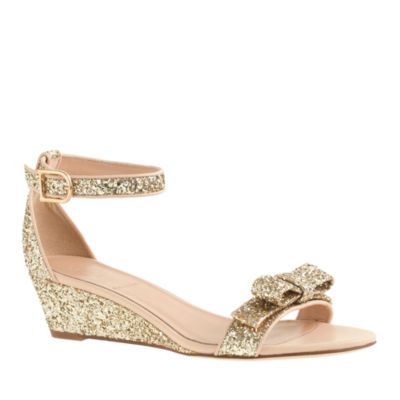 Lillian Glitter Low Wedges in Metallic Gold – J.Crew – $228.00
Price alone keeps these beauties out of my closet. $228 is too much of a splurge for me, but in a dream world these would be my go-to summer shoes. I adore the bow, and the low wedge and ankle strap make these a fun and sparkly shoe I could dress up or down.
So there we go, four lovely pieces in my fantasy closet. What do you think? Would you buy any of these pieces? What's on your wardrobe wishlist?